As December arrives, the magic of the holidays also takes hold. It's time to start thinking about about your gift list.  Local Squamish retailers offer an abundance of gift choices that are sure to fill your Christmas with unique and local options. We created this gift guide to help you find some great gifts and unique activity ideas. We have broken it into three sections, Local Unique Must Have Gifts, Give the gift of experience and memories and fun family festivities.  Enjoy and share, support local and have a wonderful holiday season with loved ones and friends 
13 Unique & Locally Made Must Have Gifts
Our Pick: Cozy Granted Sweater Company Sweaters
Winter time in Squamish is sweater time. Bundling up in one of the day sweaters or vests at Wild at Heart is the perfect way to stay warm on a crisp day. Their cozy sweaters make ideal gifts. New and gorgeous Vancouver-based @grantedsweatercompany Day Sweaters and Vests are now in-store and the perfect weight to layer over flannels and wear inside the cabin or wandering in the mountains.
---
Our Pick: Sid Dickens Memory Blocks
Handmade in Canada since 1994, Memory Blocks are the original collectible wall plaques. Interactive and timeless, the collection captures pieces of history as tangible, enchanting collectible art for modern life. Available at Empire of Dirt.

---
Our Pick: Vitality & Balance : Gold Chain and Clasp
Scandinavian Wolf jewelry designs are all made from natural materials. A combination of sparkling gemstones, leather, precious metals, and silver all go into the creation of the unique masterpieces. The new 2017 Fall/Winter designs  include gold  combined with deep rich gemstone tones. Perfect for layering or elegant just on their own.
---
Our Pick: Squamish Solstice Scented Candle
At Nooka Naturals, you can purchase a unique solstice candle. The candle features subtle scents of  hemlock, sage, cedar, vanilla, orange and lavender. Also check out their many other items.  Nooka Naturals is an Apothecary & West Coast Goods retail shop,  providing Small batch goods inspired by the Pacific Northwest and  handcrafted in Squamish, BC.
---
Our Pick: The Aromavase 
The Aromavase is a gorgeous ultrasonic nebulizer which fills a space with the scent and beneficial qualities of your choice of essential oil. Euphoria carries both the black and white Aromavase, both of which have varying lighting options. Drop by to test our large selection of essential oils you'd like to add to the diffuser to bring into your space.
---
Our Pick: Custom Artisan  Gift Box
At Billies Flower House you can customize a gift box filled with local Squamish artisan creations such as candles, delectable chocolates, and body care supplies. Each of the unique boxes contains either a bouquet of flowers, an air plant, or a succulent. The boxes are thematically designed. You can create the boxes online.
---
Our Pick: Nooks Wool Booties
At One Small Room you can purchase fun Corridor Life trucker hats. They come in both adult and children sizes. Donning the cap is a great way to show your local pride. Its also a fun and memorable gift.  Also why not pick up a pair of Nooks wool booties for any babies in your life? They come in sizes that range from newborn to 24 months. The Merino wool knee socks are another option for keeping little tootsies warm this winter. They are available in newborn to age 8. The socks are an ideal ski sock or can be used as an underlayer with boots or slippers.  All of these items are available in-store or from their just-launched online store. 
---
Our Pick: Padraig Slippers
At Fetish for Shoes you might want to consider picking up a pair of 'Padraig slippers' for the whole family. Original quality products made by skilled artisans, using natural materials while accepting the importance of both the community and the environment. Handcrafted locally in North Vancouver and Squamish.
---
Our Pick: "Chocolate Slab"
Delicious Chocolate made locally with love. Need I say more? How about the fact that they have been working around the clock just to keep up with the Christmas Chocolate demand. They have great stocking stuffers, gifts or post dinner treats. Stop by today! Inside tip: Buy more than you think you need, as the last two times we tried to buy a gift for others, the chocolate bars disappeared and never made it home.  Strange…...
---
Our Pick: All things tea!
Give the gift of a  delicious cup of tea, available at Lucas Tea downtown Squamish – The perfect stocking stuffer. They also have a great selection of mugs, infusers and more – perfect for the tea lover in your family.  BONUS: You might get invited over to share a cup of tea with the recipients! Win win.
---
Our Pick: Hatley Matching Family Pajamas
Whether it's a two piece set or a onesie, display your love for the holidays with some of our Hatley Holiday jammies! For optimal effect, get a matching pair for everyone! More style options available in store. 
---
Living in Squamish, it is all about the mountains. Why not purchase a mountain hoodie that celebrates the beauty of the area?
---
Our Pick:  Bruce Kay's Autonomy, Mastery and Purpose
Back in stock, and just in time for ski season! We ordered a reprint of Bruce Kay's "Autonomy, Mastery and Purpose" and the books arrived yesterday It's available in store at Valhalla Pure and it will also be available on vpo.ca shortly. If you're unfamiliar with the book, it's about the psychology of risk assessment in avalanche terrain, and how to protect yourself against the tricks your mind plays on you when trying to decide if something is safe to ski. A great addition to any avalanche safety library and the perfect stocking stuffer.
---
Give the Gift of Experience & Memories
Our Pick: Give the Gift of Skilled Training in the Arts 
It started with a dream. One artist's hope to gather a group of talented professional artists under one roof where they could create, connect, instruct and make the arts known in Squamish, a remarkable mountain town situated on the breathtaking west coast of British Columbia, Canada.  Check out the many art classes offered at Me and You Arts, the small class sizes taught by professional local artist are a great gift allowing creative minds to expand on their artistic skills . More info on their art academy click here:   https://meandyouarts.com/academy
---
I can guarantee if you live in Squamish you know at least one rock climber. Wondering what to get the rock climber in your life? Check out the gift cards at Ground Up By Clicking Here
---
Fun for all ages and skill levels, snowmobiling is one of our personal favourite activities.
---
Located  at the top of the Sea to Sky gondola,  enjoy winter wonderland with your family this Christmas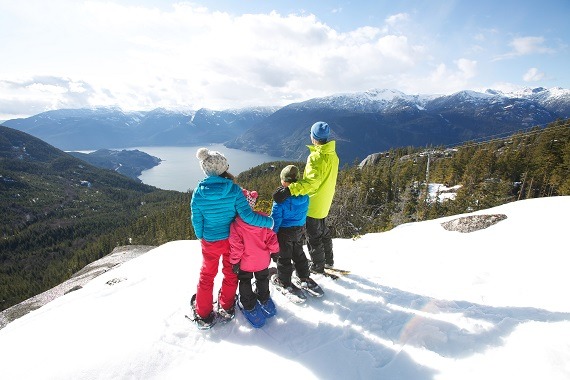 ---
A truly  Canadian experience that books up fast over the holidays – Our tip: give this as a gift to enjoy post holidays!
---
Squamish eagle watching is world class. The Bald Eagles return to Squamish every November because of our ideal wintering habitats for these impressive birds. Large, mature trees provide perching and roosting opportunities. Spawning salmon in the many rivers of Squamish provide an essential food source. The peace and quiet of the Squamish Valley also allows for uninterrupted feeding and perching. Contact Squamish Rafting Company today  or book your tour here. 
---
Places for Festive Family Fun in Squamish
Experience the sights and sounds of the holidays at Britannia Mine Museum. For the month of December, they are adding festive fun into the selection of activities at the Museum. In addition to daily underground tours, interactive exhibits and gold panning, visitors can enjoy a wide variety of festive events. Check out the full line up here
---
Squishy's is open for drop off childminding throughout the Christmas break!! Please call them ahead for childminding availability
---
https://squamishadventure.com/wp-content/uploads/2019/01/Gift-Guide.png
788
940
paula
https://squamishadventure.com/wp-content/uploads/2020/02/Logo-3-1-2.png
paula
2017-12-01 00:00:00
2019-05-06 12:53:05
Shop Local Holiday Gift Guide